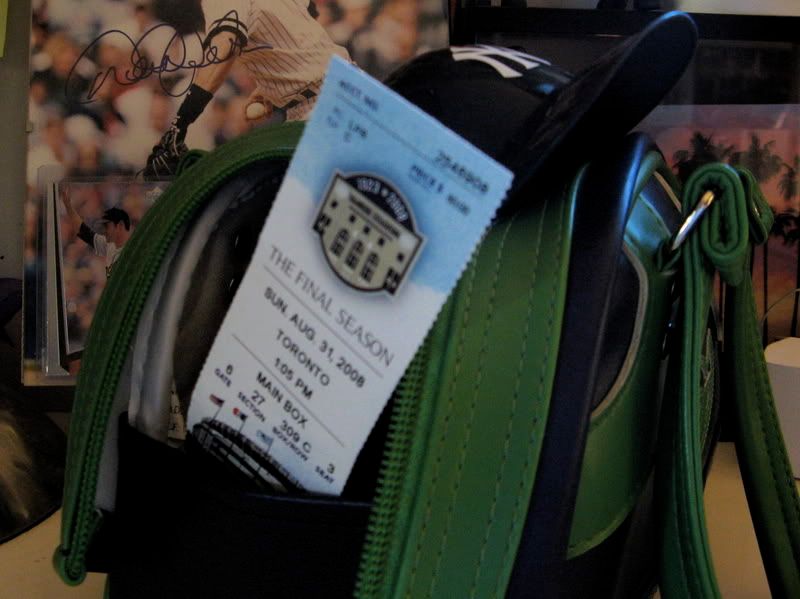 Above: It is physically impossible to get Dippin' Dots at the stadium sans helmet.
On my way into Yankee Stadium yesterday, I tripped, fell, and stubbed my toe badly. The ticket-taker - or ticket-scanner, I suppose - immediately helped me up and asked if I was okay, which, other than my pride, I was. A scraped hand, a bruised knee, a slightly bloody toe - all minor injuries, and I enjoyed the game well enough after I limped to my seat. Heavy handedness aside, what a metaphor for the Yankees' season. Stumbling, stumbling, stumbling, and limping across the finish line. Another pitching prospect unable to get a win. Stranding runners in scoring position like it's going out of style. Our opening day starting pitcher, DH and catcher all spending significant time on the DL.
All that being said, barring a miracle comeback, this season seems to have been about the little victories. Watching Moose be surprisingly dominant after a horrid season and seeing him win on my birthday. Seeing Giambi sport the epitome of a "so bad it's good" mustache. Being there for a walk-off win against the Red Sox. Watching Joba's - albeit brief - starting career. Despite the fact that the Yanks lost today (and the fact that my undefeated streak this year went bye bye), it was a gorgeous day and an enjoyable game. Some of the highlights:
A guy sitting two rows in front of me wore a Carl Pavano t-shirt. This made my dad and I laugh uncontrollably and I compared it to seeing a unicorn. 
For the first time I can remember in all of my baseball-seeing days, I heard "Rosalita" played over the stadium PA. This made me practically giddy. The little things, people. The little things.
The 'Stache went yard! There were few offensive highlights, but this was a

big

one. I kind of want to write a fan letter to his mustache. He strikes me as the type of guy who'd be amused by it. 
When Xavier Nady gets a hit, they put up a cool comic-book style X-MAN graphic. He wields baseball bats and sports superhero-style muscles. Because I am nothing if not 11 years old inside, I find this AWESOME. I didn't think to snap a picture of this and now I'm on the lookout for one.